Set up an outstanding project team 
---
Key to a great eParticipation project is a professional and dedicated project team. The leader of the project team is the project manager who should see the big picture, coordinate all project tasks and make sure that every team member meets the deadlines and sticks to the budget. Possessing the ability to keep several balls in the air is therefore crucial to be a strong project manager. 
However, strong project management skills won't do it alone: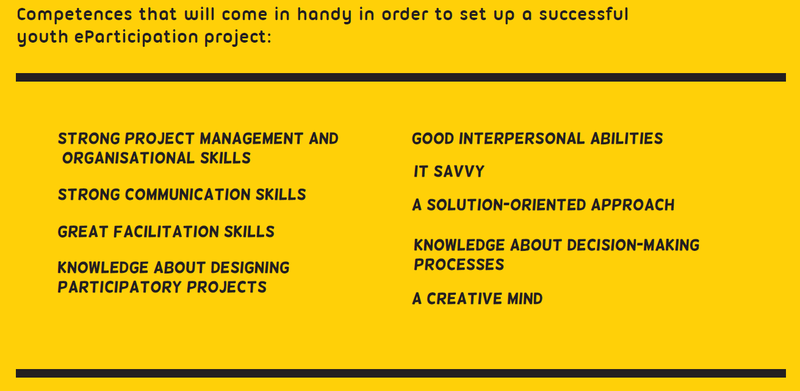 In some cases, a single person might possess all competences listed above. Nevertheless, it is always highly recommended to have at least a sounding board. A person acting as a sounding board can point your attention to things you have overlooked, give you new ideas for overcoming obstacles and so on. In any case, at least during face-to-face activities, you will need to draw on co-workers' assistance as you can't be in several places at the same time. All in all, the most important thing is not the actual number of team members, but whether the needed competences are present in the team. If your team consists of more than one person it is important that you meet on a regular basis, so everyone is updated on the latest project developments. 
If your budget is limited and you need extra help you can consider recruiting volunteers. Being part of the organising team is a good way for especially the young people to meet new people, take an interest in politics and develop new skills which can be included in their CV. But keep in mind that voluntary help is not always as reliable as paid help is.