Choose the right method(s) to achieve your objective(s) 
---
There are tons of participatory methods out there. The difficult exercise is to find the exact method which will be appropriate to the objectives you have already outlined. This can be tricky, but the OPIN Decision Support Tool* will help you. The OPIN Decision Support Tool  is designed as a questionnaire where you provide your answers to a number of questions. When you have finalised the questionnaire, the OPIN Decision Support Tool will provide you with an online participatory process which matches your project's needs. However, based on our experience, we highly recommend that you combine online and face-to-face components. It is of course possible to set up a strictly online process, but you generally raise the odds for carrying out a successful youth eParticipation project when face-to-face and online features go hand in hand. 
Below we have sketched two examples of a youth eParticipation process. The first process is less expensive and time-consuming compared to the second one. Here it is important to emphasise that a long participatory process with many steps and components should not be an end in itself. More components can increase the quality of a process, but it can just as easily be a big mess. 
In the first of the two process examples the youth eParticipation project is kicked off with a grand face-to-face project launch where the young people, the decision-makers, the press and other interested parties are invited. The process then begins online where the young people are asked to suggest ideas and then vote for the ones they prefer. The result of the process is a rated idea catalogue which is finally presented to the decision-makers at a press conference.

 The second process follows on from the first process, but two more steps have been added: A face-to-face workshop where the young people review, discuss and elaborate the Top 10 ideas collected on the OPIN platform (see example of workshop programme below) and an OPIN Poll where everyone can vote for the (elaborated) idea they prefer. The result which is then presented at the press conference is a more elaborated catalogue with the most popular ideas.

For inspiration for face-to-face methods we once again urge you to check out the Engage2020 Action Catalogue. Just like in the OPIN Decision Support Tool, you fill out a questionnaire, and the Action Catalogue will then suggest several methods suitable for the purpose of your project.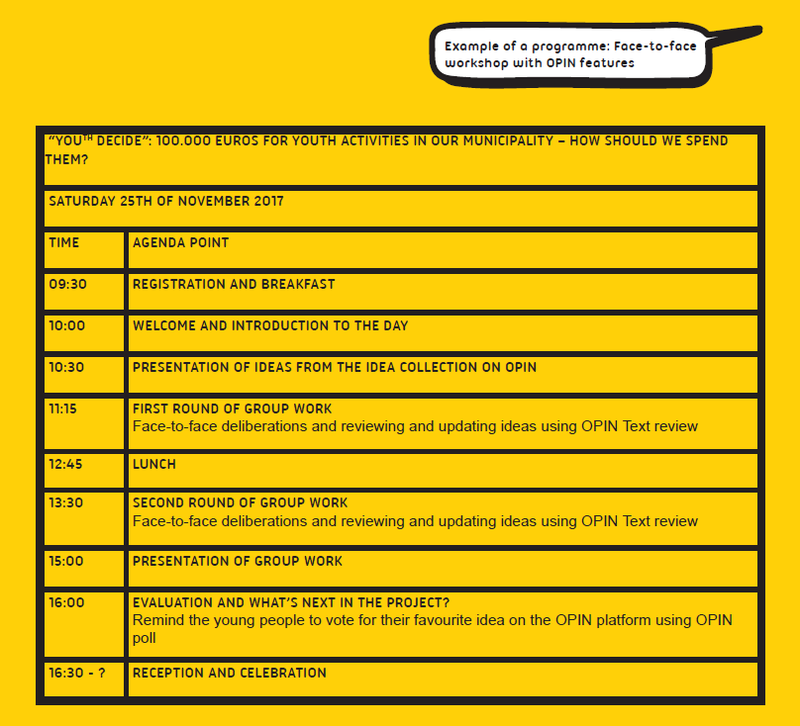 *To get access to the Decision Support Tool you have to register your organisation on OPIN. You can try out the different OPIN features and get more information on the registration process here.